Families' financial struggles to continue regardless of Brexit Deal
Families trapped in poverty will see no Brexit dividend – unless the Government changes course on domestic policies, according to a new assessment by the leading authority on poverty in the UK, the independent Joseph Rowntree Foundation (JRF). 
In new analysis published today, JRF warns that poverty and the cost of living are likely to increase and real wages to fall, even if favourable trading arrangements are agreed, as the country leaves the EU.  
The analysis, drawing on modelling by Cambridge Econometrics, examines various possible post-Brexit trading arrangements. It provides detailed results on the potential impacts on the cost of living, wages and employment looking ahead to 2030.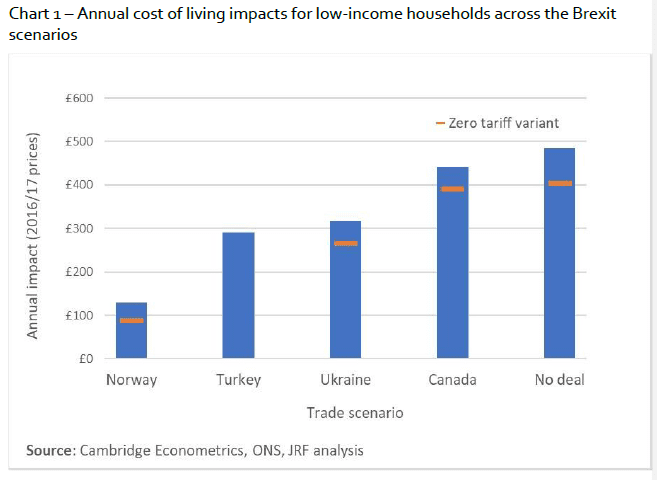 The options range from staying in the single market (a 'Norway' scenario) to 'no deal', in each case taking into account the difference that the deal makes to tariffs and non-tariff barriers to trade, immigration and investment. 
In all scenarios, the cost of living is likely to rise and real wages to fall after the UK leaves the EU in the immediate period.  A 'No Deal' scenario is likely to have the largest negative effect on costs and wages, even if tariffs are lowered for imports from non-EU countries. 
This is at a time when we are already seeing the first sustained rises in child and pensioner poverty, and there are more workers living in poverty than ever before. 
The analysis found that:
Living costs for low-income households are estimated to increase by £480 per year in a 'no deal' scenario
The driving forces of poverty will not be addressed by Brexit, highlighting why urgent action is needed now on domestic policies
Many of the impacts of Brexit are fairly evenly distributed across the population
Supporting analysis by JRF finds that:
Low pay, high housing costs and freezes and cuts to benefits and tax credits ahead of the referendum were leading to rising poverty
Future governments could choose to protect low income households from the impacts of rising prices
There is a risk that the number of people in poverty could rise by 100,000 if the government uprated benefits and tax credits by 2%, rather than keeping up with the anticipated higher inflation caused by Brexit
If a future government uprated benefits and tax credits by less than 2% the rise in poverty could be much larger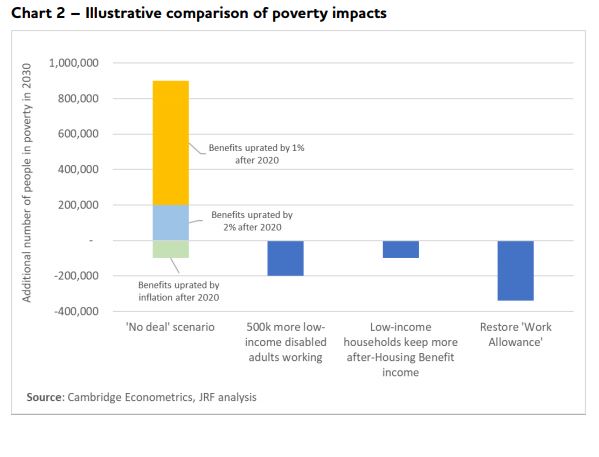 Find out more
Read the JRF briefing paper: How could Brexit affect poverty in the UK?
Read the full Cambridge Econometrics analytic report: The Impact of Brexit on Poverty in the UK.
Read the full press release on the JRF website.
For technical information about Cambridge Econometrics' modelling in this analysis, please contact [email protected].
For all others enquiries, please contact the JRF press office.