Unlocking the Inclusive Growth Story of the 21st Century
A major new report published today by the World Resources Institute's Global Commission on the Economy and Climate finds that bold action on climate change could deliver US$26 trillion in economic benefits to 2030 compared with business-as-usual.
The report, based on macroeconomic analysis by Cambridge Econometrics, will be submitted today to the UN Secretary General Antonio Guterres in New York.
It suggests that by 2030, unless we make a decisive shift, we will pass the point by which we can keep the global average temperature rise to well below 2°C, unleashing the potential for runaway climate change with enormous economic costs.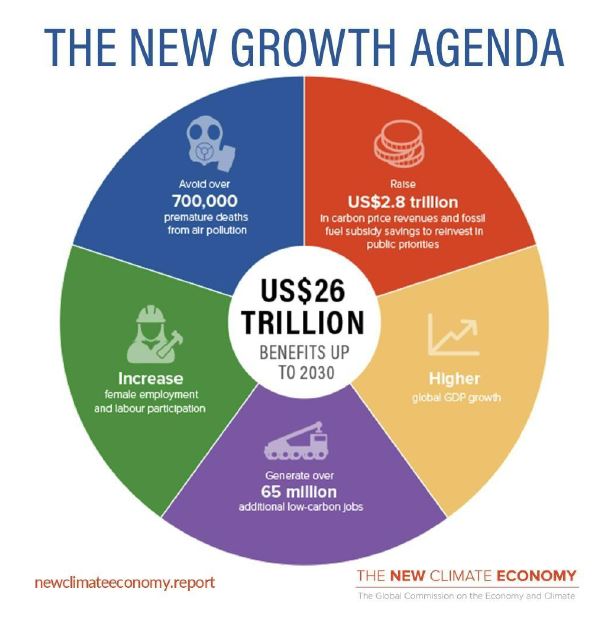 Commenting on the report, Hector Pollitt, Head of Modelling at Cambridge Econometrics, said:
"The results from the model in this report show that it is possible to reduce greenhouse gas emissions substantially, while simultaneously boosting growth and prosperity. The challenge for national policy makers is to identify and implement the policies that are most beneficial to their country.
However, investors also have a role to play. Informed investor decision-making and transparency on climate-related risks is essential to promoting a smooth market transition to a low-carbon economy.
In order to do this, long-term forward-looking scenario analysis is required to better understand the likely impacts of climate change and related policy on investment portfolios. The E3ME macroeconomic model, which underpins the key findings in this report, is designed for exactly this type of analysis."
Key findings:
The study finds that ambitious action across key economic systems – energy, cities, food and land use, water, and industry – could:
Generate over 65 million new low-carbon jobs in 2030, equivalent to the entire workforces of the UK and Egypt today combined
Avoid over 700,000 premature deaths from air pollution compared with business-as-usual in 2030
Subsidy reform and carbon pricing alone could generate an estimated US$2.8 trillion in government revenues per year in 2030 – equivalent to the total GDP of India today – funds that can be used to invest in urgent public priorities
Click here to read the full report: Unlocking the inclusive growth story of the 21st century.
To find out more about the modelling used in the report please contact [email protected]