Sustainable Investment
The impact of climate change on the global economy is likely to be significant and long-lasting. Advances in technology, policy action by governments and the physical effects of climate change will combine to reshape the investment landscape radically.
What is sustainable investing?
Sustainable Investing is a worldwide movement in the finance sector responding to the real economy transition to a low-carbon net zero economy, ignited by the COP21 Paris agreement. It actively encourages all finance sector stakeholders to consider the long-term sustainable impact of portfolio investments, weighing up the risks and opportunities of shifting away from assets that are likely to be stranded such as fossil fuels in the not-too-distant future against the increasing value of low carbon technology.

Sustainable Investing is now seeing mandatory regulation, with climate risk disclosures becoming common-place and supported by Guidelines such as the recently launched Corporate Sustainability Reporting Directive and Taskforce on Climate Related Financial Disclosures.
Sustainable Investing: Our Approach
We work with a range of governments, international organisations, central banks and financial institutions to deliver high quality climate scenario inputs and insights using our world class macroeconomic model E3ME. Our expertise supports clients in understanding climate-induced risk and how it might affect their portfolios or policy frameworks now and in the future.
E3ME can simulate interactions and dynamics of the economy for scenario analysis, testing the impact of different global temperature pathways (1.5˚C, 2˚C, 3˚C and 4˚C) and assess the impact of physical and transitional climate related risks: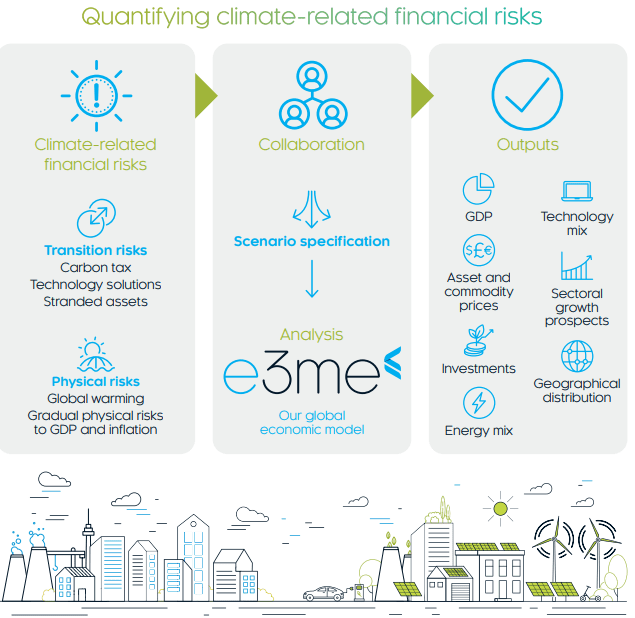 Are you an investment manager or central bank analyst? Click on the pages below for more information on how we can support your risk assessments:
Get in touch with our expert