The Aerospace Technology Institute: evaluation scoping study
The Aerospace Technology Institute: evaluation scoping study for the UK's Department for Business Innovation & Skills (BIS) aimed to identify and propose suitable monitoring systems and methodologies to support any future evaluation of the impact of ATI support.
The ATI was established "as a collaboration between Government and industry; to create the UK's aerospace technology strategy, advising and challenging the sector through £3.9 billion of secured R&T investment, to ensure the UK retains its global competitive position (ATI website)".
Our role in this study was to project how the UK aerospace sector might develop in the future without Aerospace Technology Institute (ATI) support.
This provided a baseline of the sector's expected future performance for comparison against observed future outcomes for the sector.
The nature and design of the ATI programme, coupled with the characteristics of the sector, pose a number of challenges to evaluation. The scoping study therefore proposed a mixed methods theory-based approach for evaluating the impact of the ATI programme at a later date, combining two conceptually separate but complementary perspectives (see diagram below):
Top-down: any evaluation should use secondary data from a variety of sources to track relevant indicators for the UK aerospace sector as a whole
Bottom-up: in addition, any evaluation should collect and analyse data on individual projects co-funded by the ATI to assess their respective outputs, outcomes and impacts (and thereby test and validate the intervention logic developed as part of this study).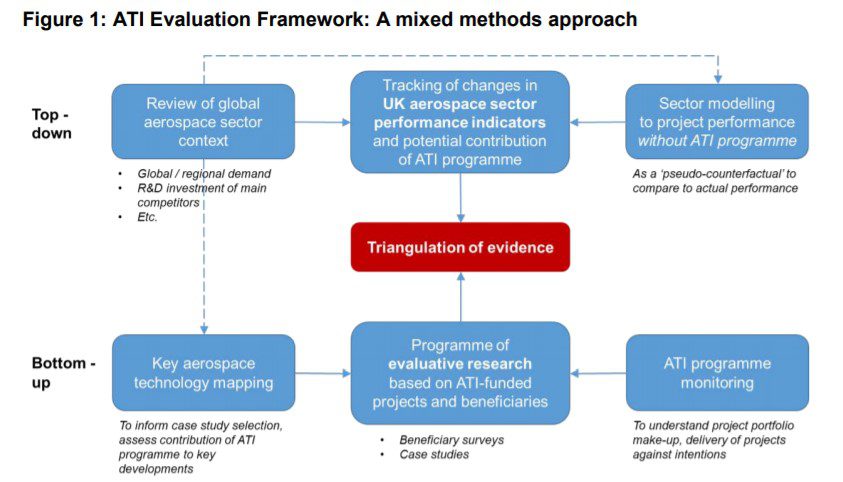 To discuss this, or similar research, please contact Graham Hay.