Strong demand for healthcare services to drive UK employment growth
A comprehensive study, published today, by the UK's Department for Education finds that strong demand for healthcare services will drive significant employment growth in the sector, as the size of the population increases and ages.
Working Futures: 2017-2027, based on Cambridge Econometrics projections, finds that strong growth in both employment and GVA is likely to come from increased demand in health, residential care and social work.
Prospects for the manufacturing sector are more mixed. Future output growth in manufacturing is likely to be constrained by increasing competition from overseas manufacturers.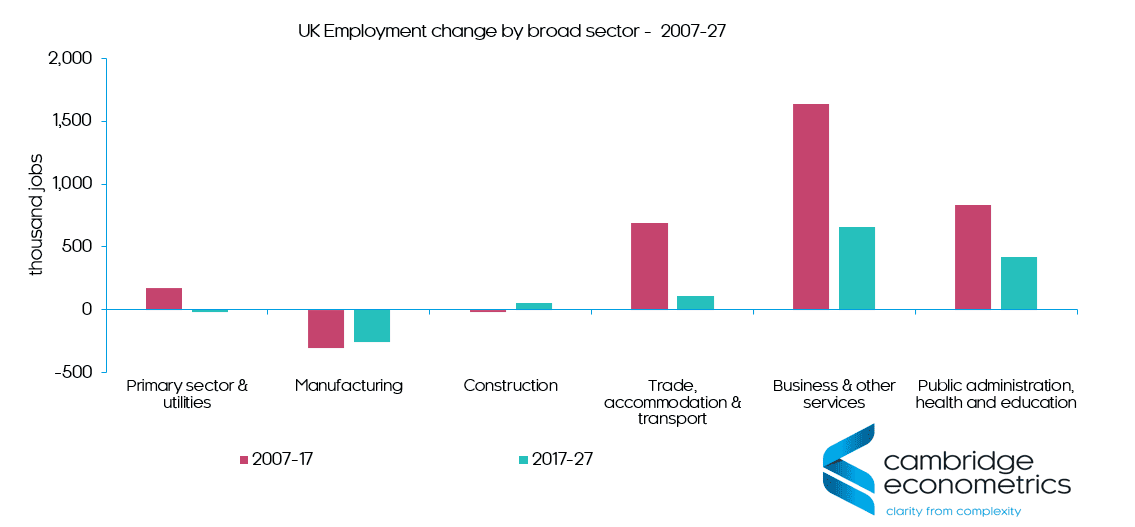 However, global growth in advanced manufacturing demand is still expected to drive an increase in domestic activity, especially for industries in which the UK is specialised, such as aerospace, pharmaceuticals and other technology-intensive industries (e.g. automotive manufacturing).
Output and employment growth in construction are expected to slow notably compared to the previous 20 years, partly driven by the skills shortage facing the sector and potential restrictions on migration (which the sector heavily relies on) following Brexit. These constraints to labour supply are expected to dampen the sector's growth prospects.
Despite falling fertility rates and the government's stated aim to reduce net-migration, population growth is still expected to lead to increased demand for construction of infrastructure and housing. Long-term major public infrastructure projects, such as HS2 and Crossrail 2, are also likely to contribute to output growth.
The professional and business services sector is forecast to see a moderation in its rate of growth in output and employment compared with the previous decade, although it is expected that it will still outpace growth in the wider economy as a whole and make a considerable contribution to growth in absolute terms.
Much of this demand is likely to be in high-skilled and low-skilled roles, continuing the trend of occupational polarisation. The strongest growth is likely to be in financial services, professional, scientific and technical activities, and information technology.
The public administration, health and education sectors are largely dependent on political decisions but wider demographic trends, such as the ageing population, are expected to be a major driver of increased demand in the long run, especially in health, residential care and social work.
Teacher shortages in the education sector are likely to have a negative impact on employment growth in the short-term, but continued growth in international students is expected to support output growth in the sector.
The impact of Brexit on the public sector is particularly uncertain. The government could benefit from the removal of fiscal contributions to the EU budget, while at the same time face increased costs as certain benefits provided by the EU move back to being the responsibility of the UK government.
About Working Futures
Working Futures 2017-2027: long-run labour market and skills projections provides employers, individuals, education & training providers, analysts and policy makers with the most-detailed set of labour market and skills projections available for the UK.  The series is developed by Cambridge Econometrics (CE) in collaboration with the Warwick Institute for Employment Research (IER).
The Working Futures projections are based on CE's comprehensive and detailed model of the UK Economy (MDM-E3), combined with IER's detailed modelling of occupations and qualifications, and distinguishes employment by industry, occupation, qualification level, gender and employment status. It includes projections not only of future employment 'levels', but also of so-called 'replacement demand' – requirements for workers, by occupation, that are due to movements between, or retirements from, particular occupations.