Ending indefinite immigration detention could save tens of millions of pounds each year
New research by Cambridge Econometrics for Liberty finds that putting an end to indefinite immigration detention in the UK, a reform for which there is wide support, could yield long-term financial savings in the tens of millions of pounds each year.
The UK is the only country in Europe without a statutory time limit for holding someone in immigration detention and pressure has been mounting, from a wide range of organisations, for the government to introduce a 28-day time limit.
Between 25,000 and 30,000 people leave immigration detention each year, with around one-in-three held for more than 28 days. While most are released within a year, the cost of holding someone for longer than one month can add up both in human and financial terms, as was the case for 7,800 people released in 2018.
Our analysis finds that the likely net savings of introducing a 28-day time limit are in the tens of millions of pounds: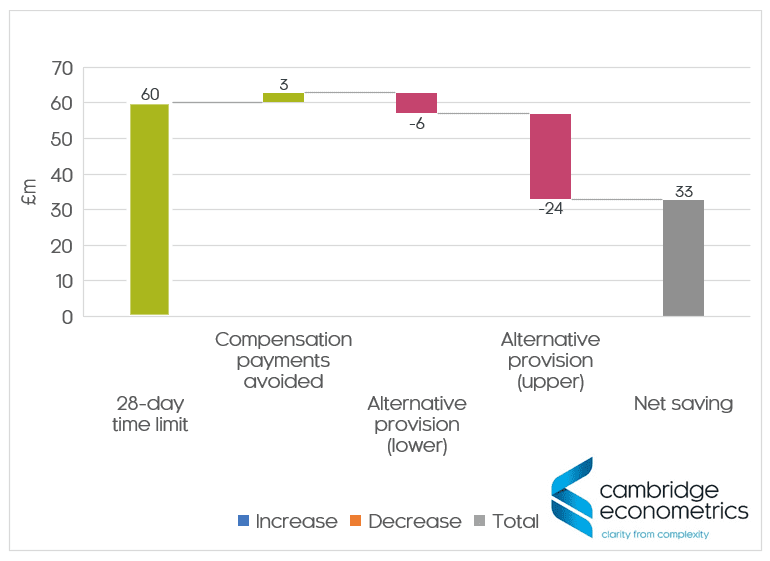 This comprises:
cost savings in the region of £60m, predominantly from shorter detention lengths, with some smaller savings from the avoidance of compensation payments for wrongful detention (which would be expected to be much less likely under a 28-day time limit)
additional costs that seem unlikely to exceed £30m from providing alternatives to detention i.e. in the community. Alternatives to detention are small in scale in the UK but data provided to us by Detention Action, which is piloting such a scheme, provide the basis for the figure. The lower bound estimate could see costs as low as £6m
Given the above, we find potential net savings of around £30m each year; perhaps more if alternatives to detention prove even cheaper. Moreover, other potential savings are also excluded from this calculation owing to a lack of publicly available data on costs such as healthcare provision, escorting services to and from detention centres, and legal cases settled out of court.
Harms caused by prolonged detention should also not be forgotten, even if they are not expressed in monetary terms.
A lack of detail in the available data makes a like-for-like comparison difficult but, to give some sense of the size of these savings, Home Office expenditure on detention in 2017/18 was £108m.
The human rights element is impossible to overlook and reason enough for reform. In this research we highlight the further economic case: that the current system is also much more costly compared to the plausible alternatives.
Please find the full report here: Economic Impacts of Immigration Detention Reform
To read about the report on Liberty's website, please see here.
To read the Guardian's coverage of the report, please see here.