e3-US: A state-level policy assessment tool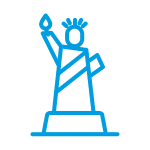 E3-US is an innovative new tool that will allow policy makers to assess policy impacts at the state level, reflecting the diversity across the US.
The model follows the approach used in our renowned global E3ME model and brings the same key advantages over many other existing tools:
a high level of disaggregation of sectors and household groups, with over 70 sectors defined
an econometric specification that gives the model a strong empirical grounding and allows for both short and long-term assessment
integrated treatment of the energy system, including a bottom-up representation of the power sector
Key economic and social outputs from the model include GDP, employment and unemployment. The model results also include energy consumption and greenhouse gas emissions.
E3-US will be launched shortly and will answer questions relating to:
fiscal policy and redistribution across states, including environmental fiscal reform
the direct and indirect effects of social expenditures and other government programmes
the impacts of new energy regulation, including efficiency measures feed-in-tariffs and support for new technology.