Spotlight on Carl Heinemann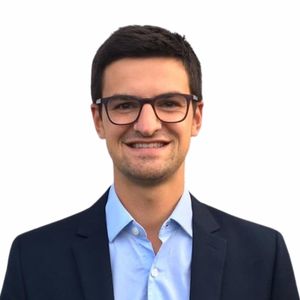 Managing Economist Carl Heinemann is our latest spotlight series addition on our team based in Brussels. Carl shares what happens in a typical day in his role and advice for any aspiring economist.
Tell us about your role at Cambridge Econometrics
I am a member of the Environment Team and lead research projects covering environmental, climate and energy topics. My role involves engaging with clients to understand exactly what type of insight they are looking for, and to make sure our analysis is presented in an accessible and useful way that really makes a difference.
Internally, I work closely with fellow economists to figure out the best methods to answer our clients' research questions. I review and sense check my colleagues' economic analysis, write research reports and present findings to clients.
What happens in a typical day – what does your job involve?
In a typical day, I might have meetings with clients to discuss project progress and project objectives, or to present some of our findings. On most days I also have internal meetings to coordinate who does what on a project. I also spend time thinking about appropriate methods and research data sources to scope out what's doable and what's not.
What do you enjoy most about your job?
One of the things I find most enjoyable is the diversity of projects, it never gets boring and with every project I learn something new. A lot of the work we do is on highly topical issues, such as looking at energy prices and their impact on households or assessing policy options to address climate change. I also enjoy working with my highly professional colleagues here at Cambridge Econometrics, bouncing ideas off one another and discussing how to solve analytical issues.
Tell us about the project you're working on
I am leading on a piece of work looking at the role of energy prices in driving inflation. We're looking at nine different countries and trying to disentangle how the characteristics of a country's energy system and government policy affect prices in different ways.
Which piece of work are you most proud of?
Recently, I completed a report for the Indonesian government and UNICEF which will feed into climate change discussions at the G20 summit in Indonesia this November. We looked at social and economic co-benefits of climate policy, and how climate policy can contribute to social and economic recovery objectives in the aftermath of the Covid-19 pandemic.
What inspired you to become an economist?
I did an undergraduate degree in social sciences at the University of Stuttgart and Sciences Po Bordeaux. During that time, there was a lot of debate and research about the financial crisis of 2008 and why most economists hadn't seen it coming, and how the subsequent recession sparked a sovereign debt crisis in the EU.
I found this all fascinating and I wanted to understand it better. I realised that politics, which I was originally interested in, is often about economics, whether it's about social conditions in a country, the environment, education or healthcare. So, I started to take more economics modules, went on to do an MSc in economics and then joined the British government as an economist in 2015.
What advice would you give to someone looking at economics as a career?
In my view, besides being able to communicate economic ideas and analysis in an accessible manner, it is also really important to develop an ability to think critically and develop an intuition about appropriate methods, potential issues, the magnitude of impacts and so on.
I think this is easier if you're genuinely interested in economic issues.
If you're genuinely interested in politics and economics and enjoy discussing economic, social and environmental issues with your friends and peers, you will be a good economist.
What do you like to do when you're not working?
I like to spend time with my wonderful wife Becky, which often involves cycling, walking, running, exploring Belgium, and sometimes singing (karaoke and choir). I also enjoy making my own pizza, baking, and playing the piano (although I'm not as good as I used to be). In the winter I like to spend time in the Alps skiing and ski touring.
Follow us on LinkedIn for our latest news, thoughts and collaborations.