Microdata case study: Changing retirement patterns in the UK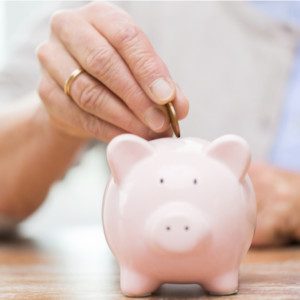 This is the second blog in a case study series that explores the merits of microdata in policy analysis. It investigates changing retirement patterns in the UK, using the Annual Population Survey (APS) microdata set.
As we learned from the first blog in this series, microdata allows us to go beneath the surface of traditional aggregate statistics to shed light on the circumstances of different groups. They are an increasingly important source of insight for our work here at Cambridge Econometrics.
Case study: Changing retirement patterns for women in the UK
I initially chose to use the Annual Population Survey (APS) to analyse the changing labour market behaviour of older people over the past 10 years. The APS is an annual survey of households in the UK that combines the quarterly releases of the Labour Force Survey. A key feature of the APS is its large sample size, making it effective for analysing different socioeconomic characterises, that may not be so easily analysed in other microdata, where the sample size is smaller.
After an analysis of several labour market indicators, the change in retirement patterns over the past 10 years, especially among women, was particularly striking. This big shift in retirement patterns for women has occurred while the state pension age has been rising for women. I chose to use the APS to look into the extent to which retirement patterns for older women have changed and to see whether certain socioeconomic groups have seen more significant shifts in retirement patterns.
Choosing retirement rate as a key indicator, the large sample size allowed me to consider how the retirement rate has changed for a small section of the older population. I particularly focussed on women aged 60-64, as between 2010 and 2019 the changes to the state pension have directly impacted their decision to retire. In 2010, most women aged 60-64 would have been able to claim the state pension, while in 2019 all women of the same age cannot.
Findings
Clear trend of declining retirement rates among older women
There is a considerable fall in the retirement rate for women aged 60-64 from 50% to 23% (Chart 1), while there is no significant change in the retirement rates of men the same age. For younger men and women, there is also no significant change in retirement rates.
A key driver of this change among women aged 60-64, may be the pension reforms introduced from 2010 to 2019. The pension reforms increased the state pension age for women from 60 to 65. For men, the retirement age is unchanged.
In 2010, when the retirement age for women was 60 there is a significant jump in retirement rates at the age of 60 (Chart 2). In 2019 there is a smooth change in retirement rates up to age 65 (the new state pension age) and a jump between the ages of 64 and 66. For women who are aged less than 60 or more than 65 there are similar retirement rates between 2010 and 2019, while the retirement rates for those aged 60-64 have changed significantly.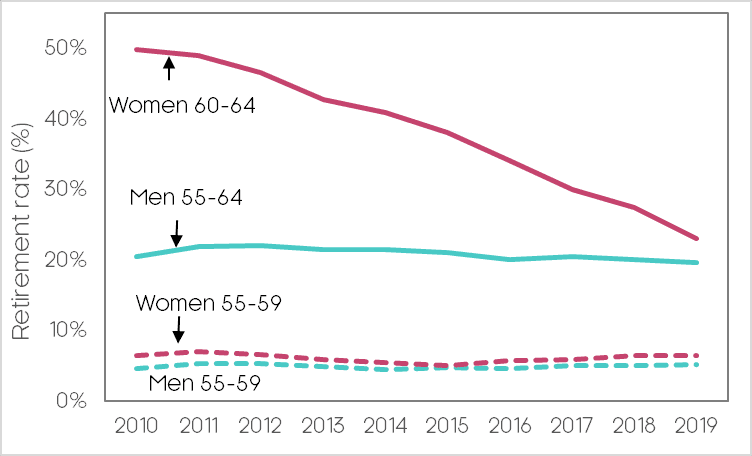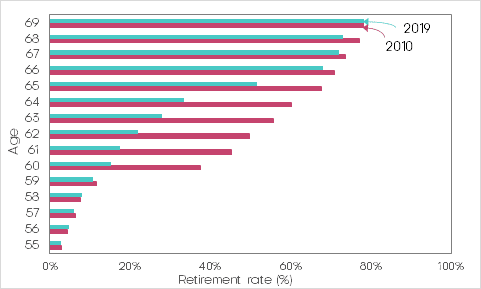 Changing retirement patterns across different socioeconomic groups
Occupations: In 2019, among the occupations of Managers, Directors and Senior Officials and Professional Occupations, which are likely to be higher paid, there is almost no decline in the number of retirees who previously worked in these occupations (Chart 3). For other occupations that are on average less well paid, there are much fewer women retiring in 2019 compared to 2011. In 2011, there were 90,000 women aged 60-64 who were retired and previously worked in Elementary Occupations, while in 2019 there were less than 20,000 women who were retired from these occupations.
Education, marital status and housing: It appears those women who either have a degree qualification, are married, or own their home outright see a smaller fall in retirement compared to others (Chart 4) to around 30%. These women may be more financially secure so may find it easier to take early retirement. Other groups who may be from more marginalised parts of the community have seen sharper falls in retirement. The declines in retirement rates are most noticeable for older women who either rent their accommodation or are separated. By 2019 their retirement rates fall to 10%, well below married women or women who own their home who still have retirement rates of around 30% despite the pension age reforms.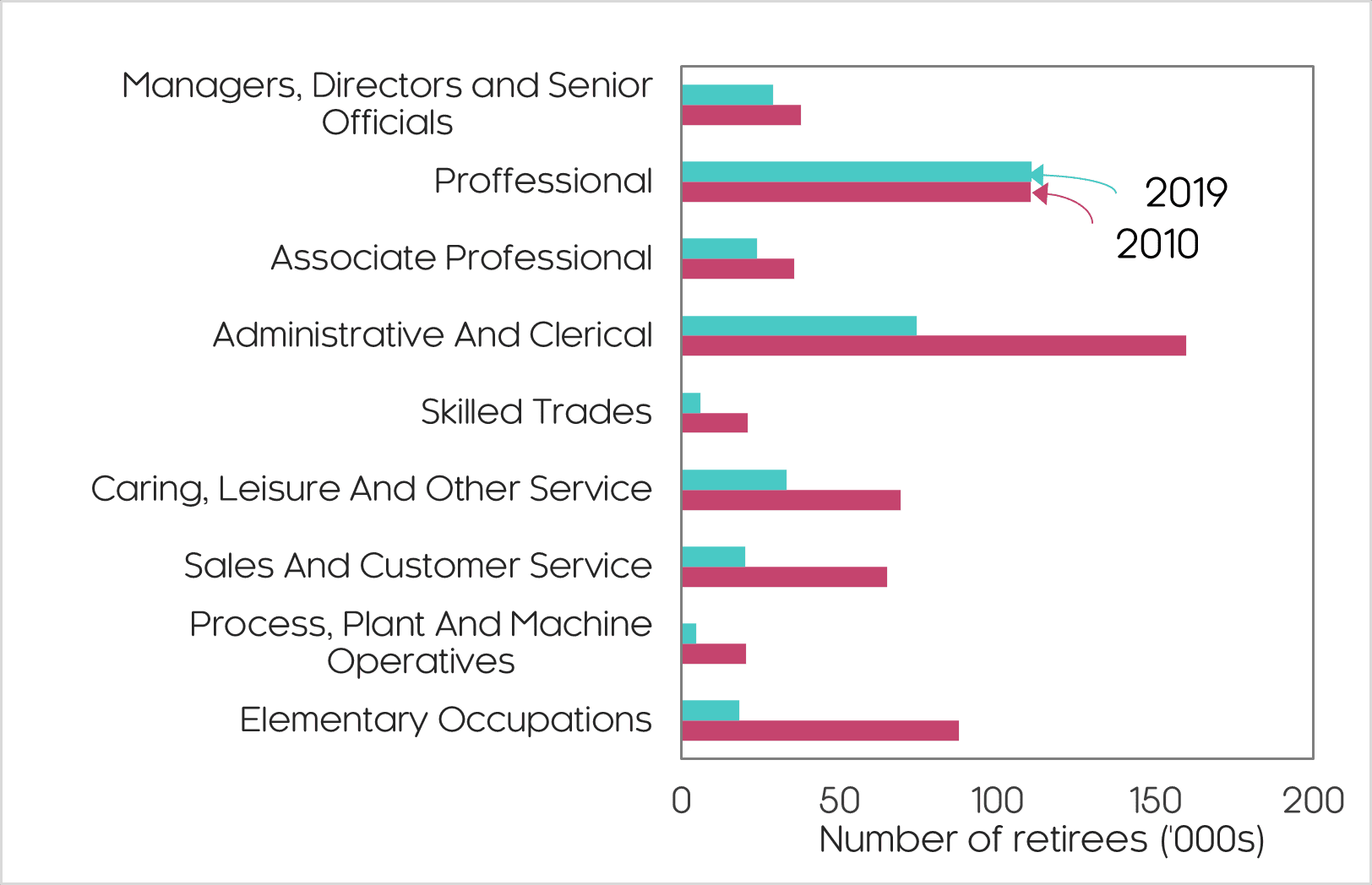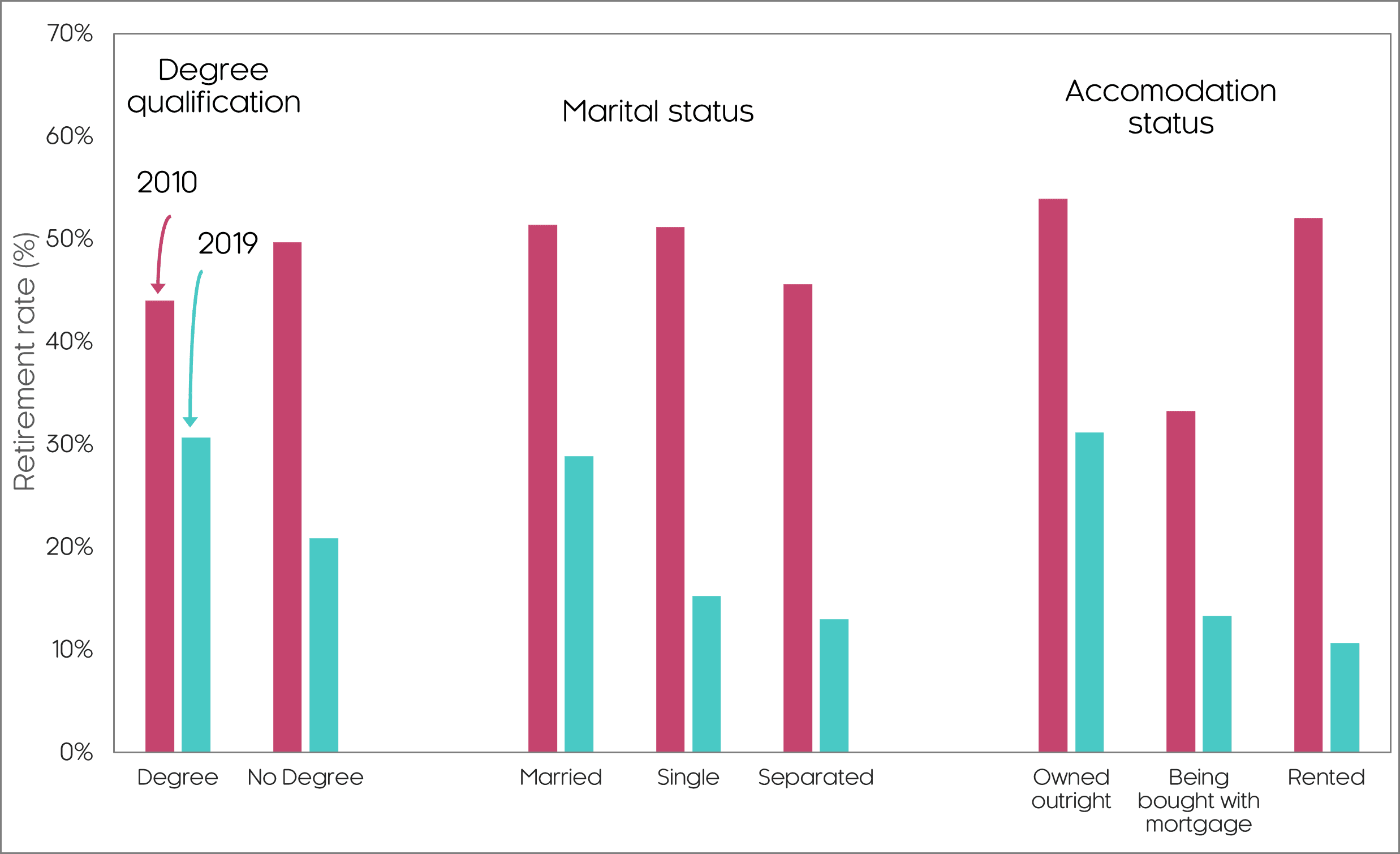 So how has this case study illustrated the benefits of microdata?
This brief exercise exploring the benefits of microdata in policy analysis has highlighted that microdata sets enable economists to examine socioeconomic characteristics at an individual level, which make it possible to thoroughly examine economic and social indicators among certain groups in society. It has also shown how useful microdata can be to inform more targeted policy interventions.
Looking ahead
The state pension age is planned to continue to rise to 67 for both genders by 2027. It will be interesting to see if some of the brief findings here continue to play out. For instance, would we see the same fall in women retiring from lower paid occupations, while women retiring from higher paid occupations remain the same? How retirements change by gender will also be interesting. Fortunately, with microdata sets like the Annual Population Survey, such rich data at the individual level will help inform policy development that takes into consideration the more nuanced impact potential of policy implementation.
Stay in touch with Cambridge Econometrics by following us on Twitter and LinkedIn.