Interview with Dan Hodge, Executive Vice President Cambridge Econometrics Inc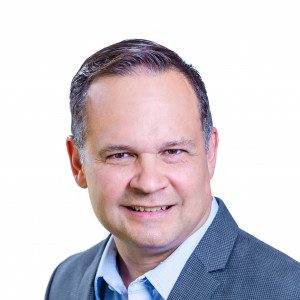 Dan Hodge is Cambridge Econometrics' new Executive Vice President in the U.S. following the company's merger with Hodge Economic Consulting this month.
Here Dan tells us more about how the merger came about, what's planned for the coming months and what he's most excited about with this new venture.
Tell us how the merger with Cambridge Econometrics came about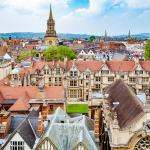 I first came to know Cambridge Econometrics when living and working in Oxford, England. I travelled by train to the company headquarters office in Cambridge and had the pleasure of meeting with a number of senior staff to discuss possible opportunities to collaborate.
That led to a subcontractor role on a project in the Newcastle-Sunderland area to study regional productivity and economic development initiatives. We stayed in touch as I took an economic development position with Oxford City Council, and then returned to the U.S. in 2020.
As the company pursued the idea of establishing a U.S. presence, I helped the company understand the economic consulting market here in North America and those discussions helped confirm and strengthen our relationship and shared interests.
For me, this was a unique and special opportunity to join a world-class economic consulting firm, add significant analytical and modeling capabilities consistent with my experience and expertise, and have a chance to lead, guide and grow a new team
You already have contracts underway with Cambridge Econometrics – can you tell us a little about these?
The close alignment of my recent (and ongoing) work in economic development strategy, transportation planning, and urban redevelopment with CE's expertise makes for a seamless transition of the Hodge Economic Consulting portfolio of research and client engagements.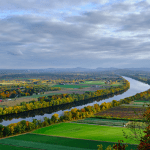 For example, the regional economic strategy project for the Pioneer Valley Planning Commission here in western Mass is similar to work CE does throughout the UK, and we'll be undertaking scenario planning analysis using CE's Local Economy Futures Model (LEFM) to help determine regional economic goals and strategies.
In North Carolina, we're part of a team working with the Department of Transportation on a transit-oriented development (TOD) planning project in the Raleigh area, acting as a senior advisor and quality control reviewer on all aspects of the project, including the detailed market analysis to estimate development opportunities.
What do you think are the most pressing policy issues that the United States faces and how can Cambridge Econometrics support decision makers on these?
At least three critical policy areas come to mind, with climate change being front and center. The U.S. has a complicated government structure with policy and investment decision-making on how to address and mitigate climate change at the federal, state, regional and local (city) levels. For example, in my home state, Massachusetts just set up a 'clean heat' commission to advance efforts to convert homes to clean energy (away from gas and oil) and the city of Boston just set a policy to cut emissions in its largest buildings which comprise 60% of building emissions.
How policies like these (being set and considered throughout the country) are best crafted, implemented and evaluated requires the kinds of economic analysis that CE leads, such as the recent project on the economic impacts of decarbonizing household heating.
Equally timely is the recovery and transition of local and regional economies due to the COVID-19 pandemic. Significant resources are pouring into recovery planning at all levels, so it's critical that we make the most of this unprecedented funding and that we carry forward the drive to create more equitable and inclusive economies for all. Determining how we best do that (e.g., education and workforce training, small business support for people of color, etc.) is critical.
Finally, infrastructure continues to be a pressing policy area, including the massive proposed federal investments (not yet agreed upon), how best to pay for these investments, and the need for better analytic methods to measure and account for the full-range of economic, social (equity), and environmental impacts of projects.
Where in the U.S. is Cambridge Econometrics based?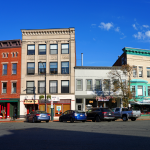 Finally, a nice easy question. Our new offices are in downtown Northampton, Massachusetts which is about 1.5 hours west of Boston and directly north from Springfield, MA and Hartford, CT.
My family and I moved here in 2012 as my wife is an economics professor and we wanted to be closer to her work, now at Smith College (in Northampton). We have a thriving downtown in an area known for its colleges and universities, and we're gradually working to increase our rail service to places like New York City, New Haven and Boston.
What inspired you to become an economist?
I first took a course in economics in high school, encouraged by my Mom who knew I was pretty good at math (and obsessed with baseball statistics) but that I also liked history and social studies. That led to an economics degree at Lafayette College, and then the wise choice to hold out for an interesting first job in economics working at Regional Economic Models, Inc. (REMI) followed by a graduate program in public policy and applied economics at the University of Michigan.
My professional career then really focused on economic research and strategy in the areas of transportation, economic development and urban planning working at HDR, Cambridge Systematics, and the UMass Donahue Institute before starting my own practice.
What's your favorite thing about living in New England?
Well, it didn't take long living in England to realize that New England is very appropriately named – virtually every city and town here has an 'original' version in (old) England!
I really love how easy it is to access and enjoy the mountains, the beach, and two of the greatest cities in the world – Boston and New York (as a life-long Boston sports fan, in that order, of course). Just this past summer, we were fortunate to vacation in areas within 3 hours of our home, including the highest peaks in Vermont and some of the greatest beaches on Cape Cod.
Follow Dan on LinkedIn and email him here.