Inclusive growth: local winners and losers revealed by new analysis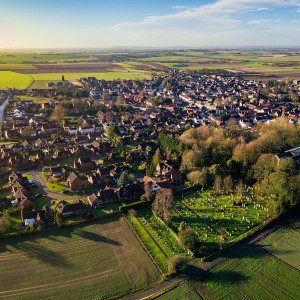 Anthony Barker has crunched some numbers to reveal that measures of relative inclusion and prosperity at Local Enterprise Partnership (LEP) level in England can mask important local variations.
Using the Inclusive Growth Monitor methodology at local level
The Inclusive Growth Monitor (IGM) was commissioned by the Joseph Rowntree Foundation in 2016 and developed by a team at Sheffield Hallam University. It was later updated by the Inclusive Growth Analysis Unit at the University of Manchester.
Several other scoreboards have since been developed – there's the Good Growth Index for cities (PwC), the Vibrant Economy Index (Grant Thornton) and Thriving Places Index (Happy City), but the strengths of the IGM remain: it uses a comparatively small number of robust indicators that are regularly updated to … "track[s] the relationship between key aspects of growth and poverty across local areas in England" (Inclusive Growth (IG) Monitor 2017: A how-to guide).
To date, the IGM was applied to LEP areas to capture outcomes in functional economic areas with a view to helping policy makers address local development with inclusive growth in mind.

While this has advantages it potentially masks important variations within some of the more diverse LEP areas.
To bring the information up-to-date and to get some sense of this variation within LEP areas we've done a quick 'crunch' of the numbers to apply the IGM framework – using the latest available data –to upper-tier local authorities.
The results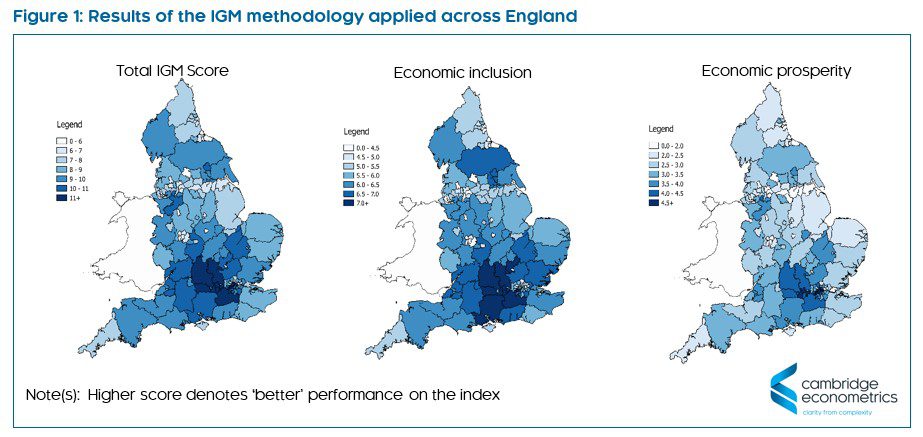 One technical point – smaller area analysis increases the chances of outliers in the data, which impact on the scoring of other areas. For this reason, the City of London has been excluded from the calculations.
The impact of other outliers (e.g. The City of Westminster) on the results is something that would be straightforward to look at in more detail – but for now this is just a 'first cut' of the data.
M4-London corridor versus M62
Overall, the best-ranked areas are broadly located in a corridor running south-west out of London in a central southern core.
In contrast, the poor-performing areas comprise a band running along the M62, some areas of Teesside as well as several other urban areas including Luton, Leicester, Nottingham, Birmingham and its surrounding districts.
The scores for economic prosperity show the best-ranked areas are even more concentrated on the central southern core.
Liverpool: low ranking for the LEP despite strong city-centre prosperity
Looking at the bottom of the LEP rankings:
Liverpool City LEP: Liverpool's low ranking on the IGM masks the relative strength of the city in terms of generating economic prosperity (although not inclusion). The city's prosperity is on a par with Manchester and better than other urban centres, including Birmingham and Nottingham.
Black Country LEP ranked bottom of the LEP-level analysis: but there is a significant performance gap between Sandwell and Wolverhampton which perform somewhat worse than Walsall and Dudley.
Thames Valley Berkshire: top ranking hides weak performance of Slough
… and at the top of the LEP rankings:
Thames Valley Berkshire LEP ranks top on the original IGM but this masks the relatively weak performance of Slough, which is only a mid-ranking area (similar to Cumbria or Leeds) hindered by its poor performance on inclusion and relatively high living costs.
A prosperous place is not always inclusive (and vice versa) …
Areas that rank 'well' in terms of inclusion also score well on prosperity, although there are exceptions:
many inner London boroughs rank much 'better' in terms of prosperity than inclusion, e.g. Kensington & Chelsea, Westminster, Camden
Thurrock and Swindon both rank in the top third on inclusion but perform much worse on the prosperity theme.
These examples illustrate that while a measure of the relative performance at LEP level is helpful for LEP decision makers and funders, action to address the relative weaknesses needs to be informed by more local analysis.
Please get in touch if you'd like to follow up on the data for your locality, or to discuss your local development issues within the context of inclusive growth at a time of fundamental economic uncertainty from Brexit, technology, demographic and societal change.
My first blog on inclusive growth explored the importance of robust local data for effective policy making.