Green government approach needed to tackle 2022's cost of living and fuel poverty crisis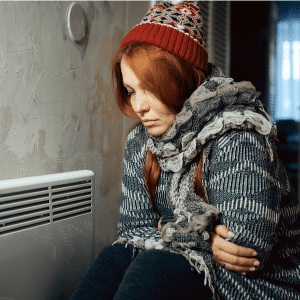 Project Manager Jen Dicks calls for a joined-up Government approach that tackles the fuel poverty and cost-of-living crisis whilst also achieving levelling up and net zero commitments. Jen argues that 2022 presents a unique opportunity for the UK to manage a green economic recovery from Covid-19 in a socially inclusive and fair way.
In September last year, our CEO Phil Summerton wrote about rising energy costs and the impact a cold winter could have upon UK households. Since then, gas prices have continued to rise steeply, and as a consequence, the industry regulator Ofgem is expected to increase the price cap for energy bills when the cap is reviewed in February.
Experts anticipate that the cap will rise by around 50%, typically adding around £600 to the average annual household energy bill when the uplifted cap comes into effect in April. Some experts predict that by October, when the cap is reviewed again, it could be as high as £2,400. These increases in household energy costs will add further to the rising cost of living in the UK, which, as highlighted by the latest inflation figures released yesterday, is at its highest level since 1992.
With the growing cost-of-living crisis in the UK perpetuated not just by the rising energy prices but also tax rises and general price increases, where does this leave vulnerable households on low incomes? How should the Government respond?
Fuel poverty will become more widespread
For many vulnerable households with low incomes, an increase in their energy bill will force them to make difficult decisions about whether to heat their home, what food they can afford to buy and which meals they can afford to cook each week, and how often they can wash clothes or take a hot shower or bath.
Households facing energy usage dilemmas such as these are living in fuel (or energy) poverty. In 2022, the costs of essential goods and services are expected to keep heading upwards, as businesses grapple with remaining profitable and are compelled to put up prices. For many households, daily difficult energy decisions will be further exacerbated as household finances are put under increasing pressure.
The national fuel poverty charity National Energy Action (NEA) estimates that the increase in the energy price cap will plunge a further 1.5 million households into fuel poverty, taking the total number in the UK to 6 million, a 50% increase in just over six months.
Clearly, many UK households will require support from the Government to help them through the difficulties ahead. Measures which have been suggested by some MPs to ease the burden of rising energy prices include a cut in VAT or removal of environmental levies charged on energy bills, or even the expansion of domestic fossil-fuel extraction.
Cost-of-living crisis and the climate crisis
However, these approaches don't support the longer-term goals of the UK's Net Zero Strategy or the Government's levelling up agenda. It is wrong to say that rising energy costs are caused by Government decarbonisation policy and to deviate from the pursuit of reaching net zero by 2050, while the climate clock is rapidly ticking.
The energy price crisis the UK is facing is instead a stark reminder that we should be:
reducing our dependency on gas and exposure to volatile gas prices by upping the pace at which we decarbonise our energy system.
reducing our demand for energy overall.
Reducing fuel poverty and taking climate action should go hand in hand
In practice this means that at the same time as greater deployment of renewable energy sources, the focus should be on the mass retrofit of homes; improving the energy efficiency of the UK's leaky and draughty housing stock through installing insulation, double-glazing and low-carbon heating technologies such as heat pumps.
Together, these measures reduce the need for energy, allowing for warmer, more comfortable homes at a more affordable running cost.
Measures which reduce energy demand create a win-win situation:
households enjoy lower bills and warmer homes
the detrimental impacts of fuel poverty are alleviated,
the environment and economy benefit from reduced emissions and new job opportunities.
In various pieces of work we have highlighted these benefits such as our work for CREDS, Greenpeace and The ROCKWOOL Group , and we continue to explore the distributional and fuel poverty impacts of decarbonisation policy through our work on the FAIR project.
Short term financial support
In the short term it is likely that financial support is required for households vulnerable to fuel poverty, for example the NEA recommends urgent actions such as a one-off rebate this winter or expansion of current schemes such as the Warm Homes Discount or Winter Fuel Payment.
Medium to long term support for house retrofitting
However, in the medium to long term households living in, or at risk of, fuel poverty (who are often living in some of the most inefficient homes) should be supported first as part of an ambitious retrofitting programme.
The measures the Government uses to respond to the current energy price crisis could permanently alter the UK's path to decarbonisation. The current crisis should be used to accelerate plans to reduce energy demand in the UK, not distract from them.
The underlying causes of rising energy costs and the solutions and benefits energy demand reducing measures can provide should not be forgotten. A strategy based on reducing the UK's reliance on fossil-fuels, and the amount of energy needed to maintain or improve our standards of living, supports the levelling up agenda and sets the UK on track to meet the net zero target in a socially inclusive and fair way.
Sign up to our quarterly newsletter for our latest news, opinions and research from around the world.