A cold winter would be devastating for poorer homes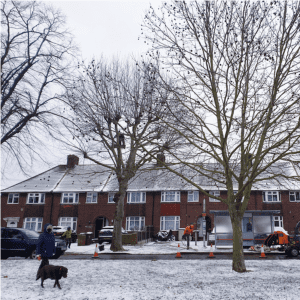 CEO Phil Summerton warns that rising energy prices will affect the poorest households in Britain this winter, as they face the challenge of increasing energy and food prices as well as the spread of Covid-19 and seasonal influenza. Phil highlights three options for the Government to consider in the short-term to prevent the winter impact, as well as some further longer-term considerations.
Energy prices in Europe are reaching all-time highs as the continent heads into winter.
Nowhere more so than in the UK, no longer part of the EU's internal energy market following Brexit, where wholesale gas prices are skyrocketing far beyond those on the continent. Wholesale electricity prices are also surging, partly as a result of higher gas prices and partly due to a culmination of unforeseen circumstances including several unplanned outages at nuclear sites and the fire at the LFA interconnector substation, coinciding with limited wind output.
This will hurt British consumers directly over the winter
A large majority of homes in the UK remain gas central heated. Ofgem, the gas and electricity market regulator, has allowed price caps to increase by a punishing £139 per year to the average household but even that doesn't look to be enough to keep many smaller energy retailers viable: an even larger increase is expected to be passed to consumers from April next year.
A cold winter would be devastating as we all continue to battle the Coronavirus pandemic. One of the key lessons learned from the pandemic is the importance of ventilation in preventing the spread of air-borne viruses but for the most part Britain's building stock isn't good enough to provide warm and well-ventilated offices, hospitals, schools, and homes.
People will face a grim choice between opening windows and suffering exorbitant gas bills or closing windows and risking the spread of Coronavirus and seasonal influenza. For poorer homes there is no choice.
Worse, increasing energy prices are coming at a time of increasing food prices and an unnecessary cut in universal credit. The outlook for low-income households is bleak.
Before winter, the market fundamentals cannot be changed but the government has options:
It can intervene to protect consumers by underwriting energy company losses to allow them to function without further painful price rises to consumers.

It can also find ways to manage demand, for example, by limiting operating hours for industrial plants that use gas but the scope to do this is relatively small.

Finally, it can directly purchase gas and ensure that storage options are fully stocked.
What about the longer term?
Longer term, energy security could be improved by either increasing domestic supplies or reducing domestic demand but the two options are not equal in merit.
Extraction of North Sea oil and gas has been in decline for over twenty years leaving one supply option: shale gas.
Recent governments have flip-flopped on this issue struggling to weigh up the economic and energy security benefits against the local environmental costs. Ultimately, albeit after some considerable indecision, coming down on the side of protecting the environment.
Allowing shale gas extraction in the UK would not mean significantly lower prices for UK consumers, since there would be no reason for extraction companies to sell their gas below market prices, unless it was required to do so by government.
Demand reduction
through improvements to insulation and energy efficiency
, by contrast, has no
immediate
downsides.
Households would face lower bills and would be less exposed to sudden price shocks. Reducing demand also contributes to reducing greenhouse gas emissions and makes it easier to switch homes to alternative heating options such as heat pumps.
A switch to more efficient heat pumps would also lessen households' exposure to price volatility since electricity supply is more diversified thanks to considerable renewable energy investments. It would also be economically beneficial to invest in decarbonising household heating, as we set out today in our latest analysis commissioned by Greenpeace.
Historical investments in cavity wall insulation, loft insulation, efficient boilers and double glazing since the 1980's will mean that UK households will face lower gas bills than they might have this winter. That will be very little consolation to many.
Follow us on LinkedIn for our latest news, thoughts and collaborations.