Is the uptake of green technologies the answer to South East Asia's high youth unemployment?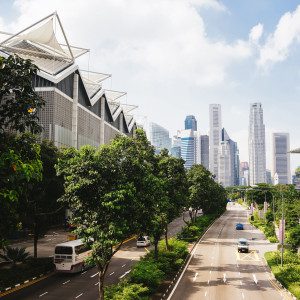 Many South East Asian countries are facing high unemployment rates, especially in younger people with a higher education. But is the uptake of green technologies the solution to this problem?
In this article, Principal Economist Madalina Suta discusses the findings from our analysis for the International Labour Organization (ILO) which suggests the uptake of green technologies creates jobs and benefits youth employment in all regions, especially for those who are highly skilled.
Many countries in South East Asia have pledged to reach net zero by 2050 or 2060, but the Covid-19 pandemic could impact the timeframe in which these targets are achieved. The pathways to achieve net zero differ from country-to-country within the region.
Meanwhile, with the exception of Japan, South Korea and China, South East Asian countries are facing the challenge of high youth unemployment rates, with 15-24 year-olds making up over 10% of Brunei Darussalam, Indonesia and Malaysia's populations. Additional challenges are also found for those with a higher education in the 15-24 age range, with a higher unemployment rate than those with a lower education.
Can the green transition help tackle the high youth unemployment rates in South East Asia?
Our analysis for the ILO's latest Global Youth Employment Report revealed that job creation, as a result of investment in and uptake of green technologies, could reduce emissions while benefiting youth employment in all regions, especially in areas requiring high digital skills.
Green transition will bring an increase in GDP, employment, and a decrease in emissions.
The green transition will bring an additional 3.4% increase in GDP and 1.5% increase in employment. The substantial decline in emissions by 2030 is driven by investment in green technology.
In Asia and the Pacific where the carbon-price revenues are not enough to cover the necessary costs (investment, subsidies etc), higher income taxes make up the difference. The higher income taxes have a negative impact on GDP, hence the small growth compared to the baseline over the 2021-30 period.
The green transition will be an opportunity to decrease youth unemployment. The adoption of green technologies will require highly skilled workers and therefore provide jobs for the youth in line with their level of education.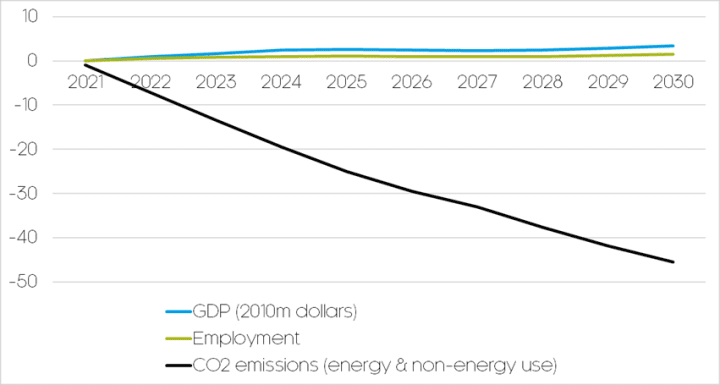 Manufacturing and installation of green technologies could create an additional 26 million jobs in South East Asia.
Due to the labour needed to operate and maintain green technologies, we could see around 26 million additional jobs created by 2030.
Figure 2 shows that employment demand decreases in the coal, oil and gas extraction, and manufactured fuel industries. The increase in demand for green technology causes an increase in employment in the manufacturing of electronic products and construction sectors. The construction sector, in particular, benefits from both the installation of green technology and the increase in buildings' energy efficiency.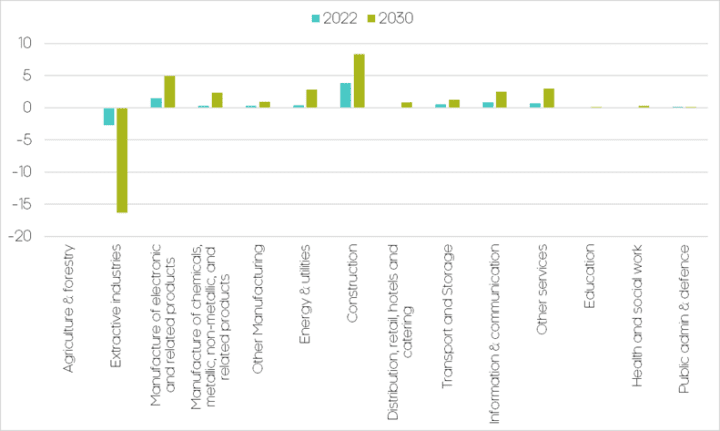 The transition will create job opportunities in sectors that young people in South East Asia have historically found more employment opportunities in compared to adults.
Sectors impacted by the green transitions are currently male-dominated, and by 2030 only one quarter of the green job opportunities in Asia and the Pacific will be held by women. Policymakers have an opportunity to improve the gender employment gap at the same time as improving the employment rate for young people.
How can these findings impact policy design for South East Asia's labour markets?
As we continue our journey to net zero, there is increasingly clear evidence that for South East Asia, and indeed for the rest of the world, the future of work will require green and digital skills.
Achieving net zero targets will see an uptake in low-carbon, green technologies; all of which require digital skills. The chart above shows the distribution of demand across various sectors. Young people should start training now to fulfil this future demand.
The green transition brings significant economic benefits, not just to young people but to all demographic groups, as recently observed in another joint-report on nature-based solutions employment benefits.
Read more on the analysis in the Global Employment Trends for Youth 2022.