New economic modelling tool for economies with limited data availability
FRAMES is a new modelling tool designed to assess the macroeconomic impacts at national and sectoral level of economic, energy and environmental policies.
Due to its light data requirements, it is especially well suited to analysis of economies with light data availability. FRAMES therefore allows for more detailed analysis of countries that are not individually represented in Cambridge Econometrics' flagship global macroeconometric model E3ME.
As a fully-fledged macroeconomic model, FRAMES offers a more complex alternative to traditional input-output analysis, including parameterised relationships between key variables, price effects, and a mutual feedback with energy and environmental modules.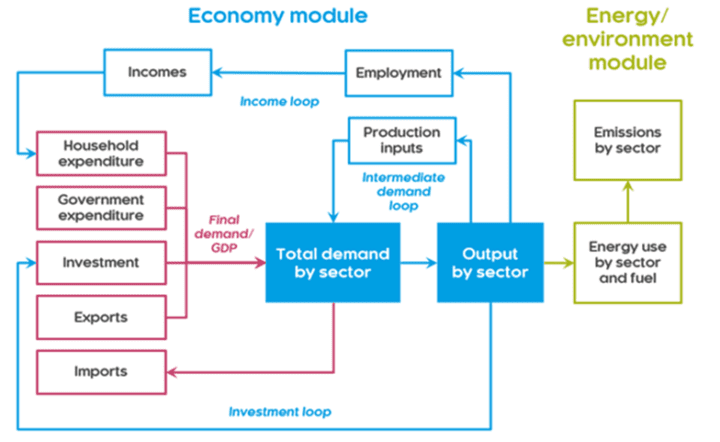 FRAMES has already been used to analyse policy-relevant questions around green jobs assessments, carbon taxation, and circular economy in countries such as Jordan, Bangladesh, and various African countries.
The model has also been designed to be highly flexible, adapting to requirements of each project offering baseline projections and scenario inputs through to sectoral detail and applying assumptions such as revenue recycling and cost pass-through.
Key features
Interactions between different sectors and agents in the economy.
Built on the sectoral relationships embedded in input-output tables.
Supplements input-output relationships with full-economy relationships between output, employment, incomes, consumption, investment demand and trade.
Only a single year of historical data required, along with baseline projections of population and GDP.
Ties macroeconomic outcomes to energy demand and carbon emissions, allowing a full analysis of the energy use and climate impacts of different policies.
Contact us