Spotlight on economist Sachin Babbar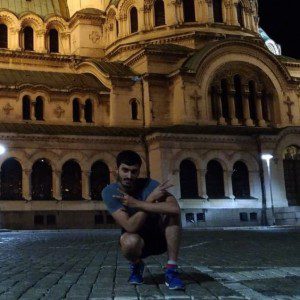 This month's spotlight blog features our Economist Sachin Babbar, based at our Brussels office.
Sachin tells us why he feels particularly nerdy at the moment, how he was inspired by Tim Harford's 'The Undercover Economist' and why he's so passionate about GDP!
Tell us about your secondment to Brussels
When the secondment offer went out to employees I jumped at the opportunity. I had recently graduated and moved back home with my parents in Cambridge, so I was craving some independence and a new adventure.
This year I decided to stay in Brussels permanently because I thought it might not be so easy to work in the EU in the future. The paperwork has been a pain, imagine what this might be like after Brexit.
Our team was shortlisted for the Indigo Prize – tell us more
The indigo prize was a huge highlight for me. Firstly, it's a topic which I feel strongly about. How can we improve GDP?
Right now, it's the big number that all politicians care about: it's how we measure countries' performance and compare one with another. It's also a key indicator used by governments to appeal to voters. But there is so much wrong with it.
GDP currently completely overlooks important areas such as sustainability and pollution.
If a country rips out a massive forest this would show up positively in the GDP figure: the wood stock, the wages of the wood choppers etc. But there is a natural loss, the CO2 absorption potential is gone, resistance to local flooding is reduced and there is a loss biodiversity.
With regard to pollution, China burns huge amounts of fossil fuel to produce goods, which has contributed to years of strong GDP growth, sometimes double-digit. On paper this looks great, but living in China's cities is far from ideal, pollution has contributed to health issues and reduced the quality of peoples' lives.
GDP has also failed to keep up with the change in societies' behaviour, mainly due to the advent of certain technologies and social media platforms.
We are constantly engaged and creating vast amounts of data on social media. This data is traded from consumer to platform, which we agreed to when we signed up. They get our data for free, bundle it up and sell it on to advertisers, and we get their service for free. But because this exchange is free it is totally ignored in GDP figures, yet represents a large part of our lives. This was the focus of our entry.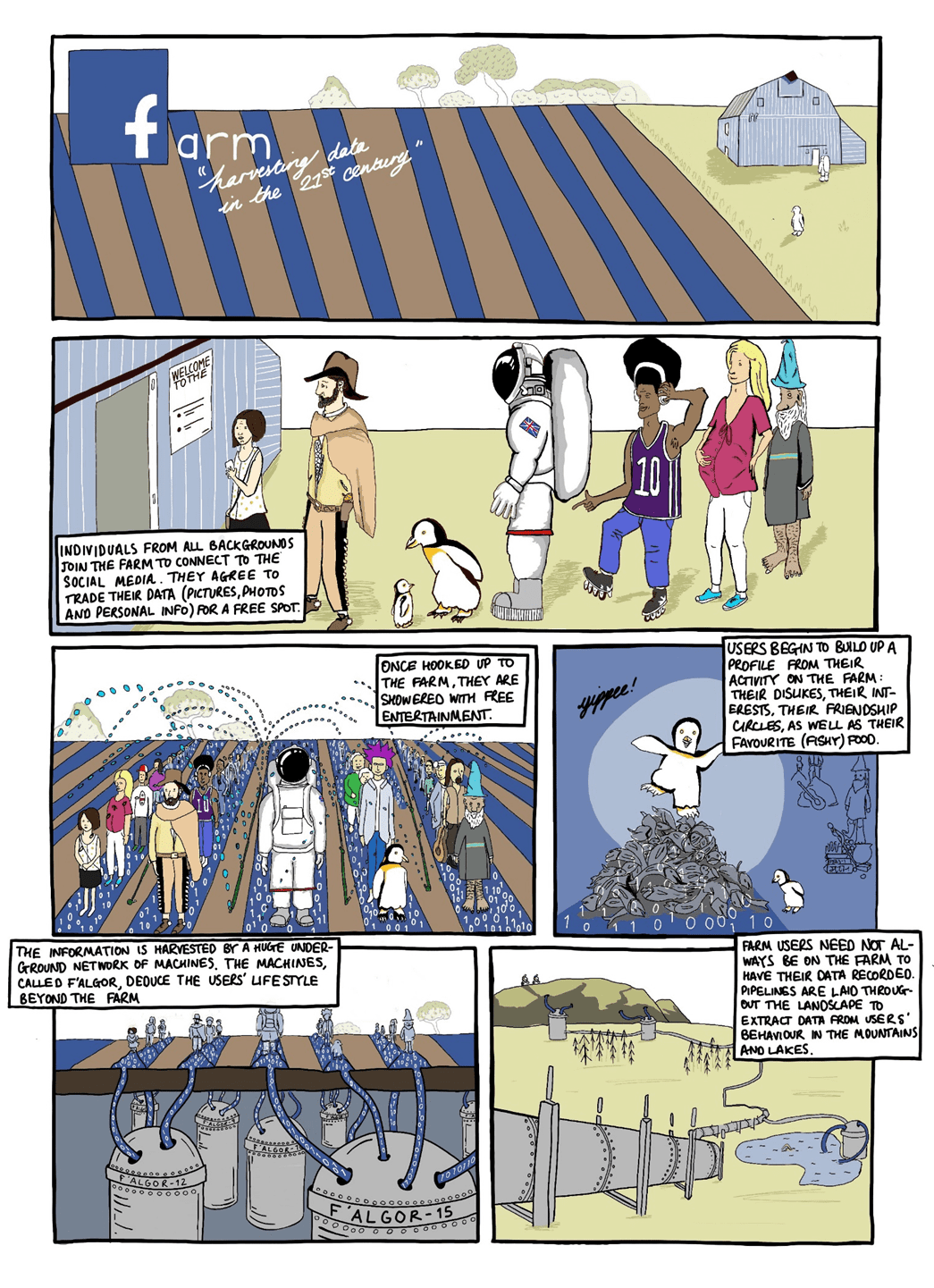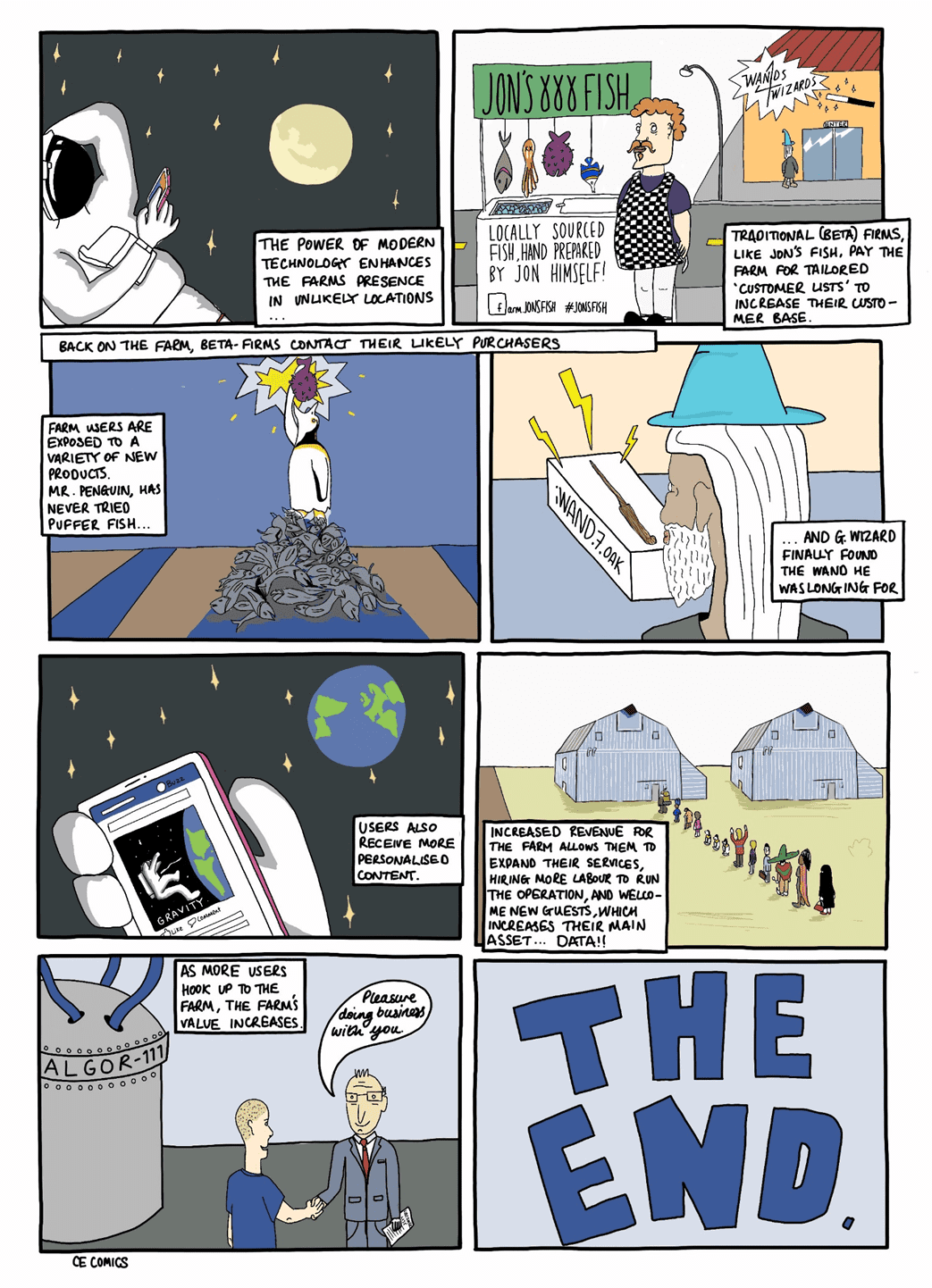 We were shortlisted to the final five and gave a presentation in front of some very senior people. We were unsuccessful, but I was very proud of the team to have got so far. I was also very happy with the comic I drew to help visualise our entry.
What do you do at Cambridge Econometrics?
I work as an economist in the environment team downloading, processing and sense-checking data (for example, electricity generation of renewable technologies).
We recently switched to Python, which has been difficult, but interesting. It's the third programming language I've learnt since joining CE and now I feel extra nerdy (which is a good thing in my opinion).
As well as saving time Python can do some cool things. I'd like to use it to create some data visualisations to help people understand what we do here. Watch this space!
The other part of my job is writing sections of text for reports, to describe the methodology we used and analysing results that come out of our main model (E3ME). I've also done a bit of marketing: writing a blog on the emergence of new business models with the advent of autonomous vehicles and another looking at how they will change our perception of distance, freedom and safety.
What is the best thing about living and working in Brussels?
I like the lifestyle here, it's a huge mix of culture, from time -pressured professional suits and eccentric individuals roaming the streets. Plus, the beer is top notch.
What do you miss about Cambridge?
The air! The air is so clean in Cambridge. I work on the busiest street in Brussels. When I walk out I am greeted by five lanes of traffic, CO2, NOX and SOX. Its horrible, but when you leave the Cambridge office it's the sound of bike bells, buzz of bees and smell of fresh air!
What do you enjoy most about your job?
I think the degree of autonomy and responsibility project managers give economists to get a task done and the wide variety of projects I have been involved in are the best aspects of the job. This has meant my skills set has been pushed and I am developing quicker than I expected.
What are you working on at the moment?
Recently, I have been involved in a research project called ENABLE.EU which is a Horizon 2020 project for the EU commission. Alongside colleagues, I am developing a methodology to assess the impact of policies which enable the take-up of energy technologies amongst households and how the potential changes in fuel use will affect the macro economy.
To understand households' choices, we will be using a suite of diffusion models called (Future Technology Transformations). I've had no experience of using FTT, so this has been a great opportunity to get stuck in and learn more of the company's IP. Plus I got to go to Sofia, Bulgaria for a meeting with the partners!
What inspired you to become an economist?
I was introduced to economics through reading a book called The Undercover Economist by Tim Harford. I loved the simplicity in the explanation of how individuals and companies responded to incentives, somewhat cynical but also rational.
It snowballed from there, a few years after the financial crisis hit and everyone was running around asking what went wrong, economics was in the forefront of the all the news channels. I remember some engrossing documentaries by Stephanie Flanders for the BBC explaining different schools of thought associated with economics and how they explained/did not explain the current crisis.
What advice would you give to someone looking at economics as a career?
In general stick to the maths, if you are at university opt for econometric courses that teach you skills on how to derive meaning from the data. Learn computer sciences, if you can combine the two formally, great, but if not try learning it on the side. If I knew more about software and programming I think I could be doing some interesting stuff with our models. Above all, do what interests you, you'll be doing it five days a week.
Tell us something that even your colleagues don't know about you…
My colleagues know a fair bit about me, maybe a lot. But they don't know everything, private life is private life, I don't tell them everything, so I am not going to tell you!!